Team Vida Vegan HQ has a dream (okay, and at least 107 projects in the works), and that dream is to one day attend Expo West. From the looks of the Internet and all the jealousy-inducing photos we've seen, this year was bigger, better and more vegan-friendly than ever. I mean, it had its own vegan-specific hashtag, #VegansAtExpo. That's really saying something. Like I said, one day, the sampling will be ours, because it looked like a blogger-hopping blast!
To tide ourselves over until we bring on the exhibitors at the next Vida Vegan Con, we put together this hashtag roundup from the tradeshow.
Hint, hint, we'd love to see all these folks and products at VVC2015*! Right?! Let's make it happen.
*Dude, the much-anticipated VVC2015 city & dates are  seriously, seriously coming your way early Spring, which means oh, so, soon. I hope you subscribe to our official Vida Vegan HQ newsletter! (because it's an infrequent, imperative source for these things).
Enjoy these highlights via Instagram & Twitter, some thoughts from Michele and myself, and prepare to contemplate: Is 2014 the year of the vegan fish stick, or what?
Michele says: I am so G-to-the-D excited about these, and I can't tell you why. Fish sticks were always the grossest, but I loved fish & chips—which now seem just as gross. So why do I want a vegan fakey fish? Whyyyy? 
…because who can ever get enough of JJ's Cocomels?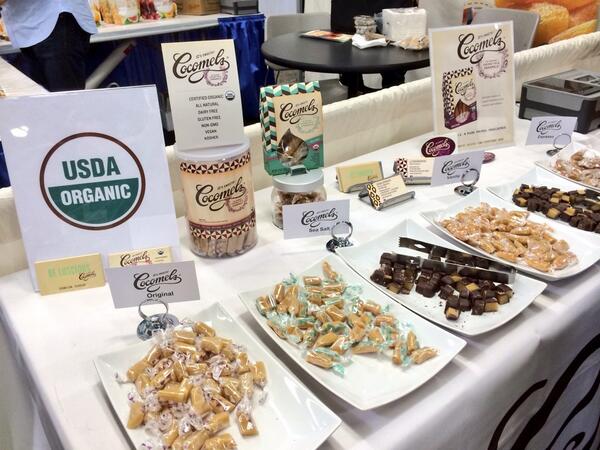 Fan favorite! (And we're talking about the bacon and our friend Jared)
Speaking of bacon, we sure are A-OK with another nifty vegan seitan bacon hitting the market. Anyone seen this in Portland yet? Or better yet, we'll come to you!
Clearly a necessity with the non-stop sampling going on.
Everyone (okay, at least three people in Jess' Instagram feed last week) are raving about these new Field Roast burgers! And breakfast sausages! For that matter, I must admit, I'm a little disappointed when I visit Seattle and every other restaurant doesn't offer *something* Field Roast. Come on, home town pride!
Cue freakouts. People have seriously been waiting for this. The year of the soy yogurt shortage even saw me breaking out my slow cooker and making my own. I've got Artisan Vegan Cheeses to make, people.  Fortunately, the WholeSoy factory is up and going and I can report that it's recently been spotted at the Hawthorne New Seasons (again, here in Portland. Have you seen it your way yet? Do tell! People are depending on you. I had no idea this many people I knew ate so much nondairy yogurt).
Looks like 2014 is gonna bring us even more vegan cheese. No issues here. Let's push things forward and get some standards.
Okay, you know team VVC takes ferocious pride in the VVC Swag bags, but even we're a little jealous here!
What would you love to have from this pile of goodies? Personally, I want to get my eager little hands on this and plan on stalking the roaming SD truck later today:
Michele says: So Delicious, I knew you were listening in on my dreams. 
Also ongoing:  The Vegan Ice Cream Revolution! I'm partial to coconut and soy, but keep the options coming. More for everyone!
Hello, Spork sisters (and hairstyling inspiration for the day)!
Who's down for some faux tuna? (Karla, I'm talking to you)
And ah yes, having tried Beyond Beef myself, I could EASILY see this fooling nearly anyone eating at Taco Bowl. I'm normally one for black beans, but if this is the future, let's get started.
Fancy!
Michele says: Personally, creamy foods like mayo creep me out, but I love that there's a gourmet/upscale vegan market. It's products like this that help us broaden the perception of "vegan." 
There you have it! Expect new cheeses, fishy stuff, crumbles and even more vegan bacon heading your way (or order it online through nice folks like Austin's Rabbit Food Grocery and Portland's Food Fight!).
And don't worry, we'll take one of everything for Janessa.
Some roundups for additional swooning:
And John, we are eagerly awaiting The Laziest Vegans recap!
Did you attend? Did you have a favorite? We'd love to hear about it!