Vida Vegan Con
You like fluffy biscuits? We adore fluffy biscuits! You like gravy? We lo-o-o-ve gravy! Here at Vida Vegan HQ, Janessa's daydreaming of mashed potatoes and pie, Michele is gonna get down with some stuffing in a very special way, and I'm seriously craving sweet potatoes, which can only mean one thing: let's talk Vegan Thanksgiving recipes! It's last minute, for sure, but there's always time to add another pie to the menu. Sheesh.
With the need for an assortment of pies, savoury stuffing and whatever seitan/tofu/en croute is the latest and greatest or best of the rest, let's grab a plate, enjoy with loved (or liked!) ones, and keep menu planning for one delicious American Thanksgiving afternoon!
And may we suggest, if your American T-Day celebration isn't as cruelty-free as you may like (oh, family), we recommend you find your local veg group, or start your own vegan potluck with friends, and veganize the heck out of your family favorites on another day. Enjoy!
Check out these

Vegan Thanksgiving

photos & holiday tips from our own Vida Vegan Con 2015 Speakers & Friends:
-
Starting things off with a little something something…
Apple Pie on the Rocks, via Vegan Yack Attack. Cheers, Jackie!
Perhaps the ultimate fall comfort food, we have a legit Lentil Shepherd's Pie with Mashed Parsnip and Potato Mash, courtesy of Gena Hamshaw of Choosing Raw, via Food 52. Check out Gena's tips on veganizing your own Thanksgiving, including her "perfect vegan pie crust", over here.
For even more tips and on all things mashed potatoes, gravy and stuffing, check out The Sexy Vegan's latest holiday episode. He's quite the informative fella!
This one has definitely become a new Vegan Thanksgiving classic: Joni Marie Newman's Seitan en Croute from 500 Vegan Recipes. Mmmm, "en croute".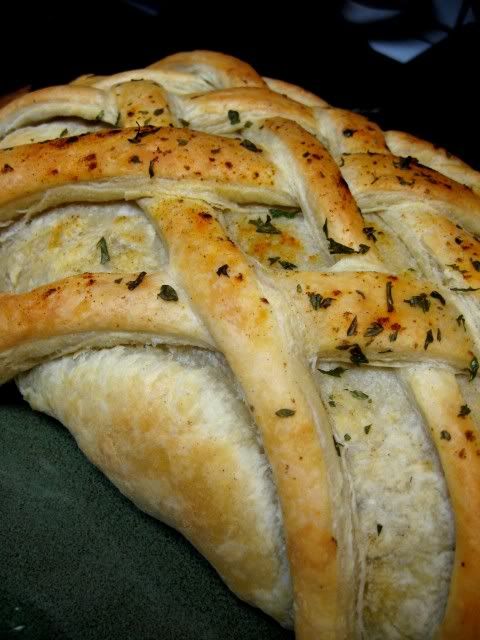 It's quite the savoury masterpiece. The recipe is up on Just the Food. You know what to do.
Here in Portland, Oregon, we look forward to food writer Grant Butler's holiday recipe guides in The Oregonian every year. I seriously found my new favorite pie thanks to his pieces last year, veganizing Four & Twenty Blackbirds' Black Bottom Oatmeal Pie for the second year in a row just yesterday.
Check out Grant's most recent, talking all things cranberry sauce (with some recipes, of course): 7 Thanksgiving cranberry sauce, relish and chutney recipes, via Oregonian FoodDay.
Another holiday favorite goes to Isa Chandra Moskowitz's Chickpea Cutlets:
Since Veganomicon's release in 2007, I have been to so many potlucks and dinners that have starred these great patties (okay, fine, and last year she made them inside my apartment. Wowzers.)
Okay, we've got the seitan, so don't forget the biscuits!!
Fluffy Biscuits & Creamy Sage Gravy, Julie Hasson's Vegan Diner
Frankly, it's almost time for pie, so let's get down with some sweet potatoes as a stepping stone. The aroma of mashed sweet potatoes, cinnamon & pecan is my ultimate holiday food nostaglia, and this one looks deeeee-lightful:
The Blissful Chef's Sweet Potato Casserole with Maple Pecan Topping
Want your mashed sweet potatoes to be SWEET potatoes? Er….yams? Sayward's got ya covered with these Traditional "Dandied" Yams:
If you're like me, you've been known to insist on mac & cheese as part of your Vegan Thanksgiving spread.
Monique over at Brown Vegan knows what I'm talking about, and is a fellow lover of the non-traditional VegNews recipe that made waves a few years ago. She's got it posted up over here.
You made it through! It time for pie!
First up, this absolutely gorgeous chocolate pecan pie from chocolate guru Fran Costigan:
And goodness, gracious: Maple Yam-Ginger Pie from Bryant Terry's Vegan Soul Kitchen.
You can find that recipe up on FancyFoodFancy.
And when in doubt, both the Voluptuous Vegan and Bryanna Clark Grogan have epic offerings of their own. Isa has the first recipe up on ThePPK.
And hey, both Hannah Kamsinky and Dynise Balcavage have released exclusively vegan pie cookbooks in recent years.
What a beautiful time for veganism.
And because some of us really like to go back for more stuffing, we've got two more for ya, of the cornbread persuasion:
Cornbread Sofrito Stuffing with Veggie Chorizo, courtesy of Terry Hope Romero on Vegan Latina.
And one more for the road: Vegan Southern-Style Cornbread Stuffing, courtesy of Susan Voisin on Fatfree Vegan.
For more ideas, check out these real life Thanksgiving Feasting recaps from our friends Bianca Phillips, Sayward Rebhal, Lisa Coulson (aka Panda with Cookie) & Jackie Sobon:
Thanksgiving Recap, or, Tale of Unturkey, via Vegan Crunk
What we ate Wednesday: THANKSGIVING!, via Bonzai Aphrodite
All things Vegan Thanksgiving on Vegan Yack Attack
Vegan Thanksgiving Recipes & Plans, via Panda with Cookie
Plus, Vegan Cuts has this awe-inspiring Vegan Thanksgiving Pinterest collection.
Go team, go!
One small thing that makes a big difference? Print out or hand write a nice menu for your delicious spread, and post it on the wall. We bet it'll get your company even more excited!
As for us, Janessa's whole family will be together for the first time in years! Their plans include pumpkin pie, pizza and going outside to play "Leaf Extreme". Michele is gonna be getting down with some of these, and I'm bringing Shiraz, chocolate cream pie and biscuit dough (Dude, you better believe it's homemade!) to a small get-together (while craving Thai food, no doubt). My evening plans include relaxing with my partner, more pie, and Skyping my sister and her new dog.
And if you need an idea for staying in and avoiding the world, may we suggest keeping calm, picking up some Pad Thai and Pumpkin Curry, and relaxing with some quirky science fiction on Netflix. Nice.
Rewind!
Vida Vegan Con organizers Janessa and Michele have returned even more enamored with Austin after a week of very important meetings and venue walk-throughs and just as necessary vegan food truck hopping. They met with old VVC family, new speakers, and met some local Austin business owners, cooking up all sorts of plans for May 2015. Did you spy them around town, margarita or black coffee in hand?
Here's a few photos of what they were up to:
Meanwhile, back in Portland, Jess held down the Vida Vegan HQ homebase (make that: whatever coffeeshop she happened to be running into, then being Tula) and remained obsessing over all things vegan mac & cheese with a certain sold out showcase taking place.
What's new with you?
Stay tuned this week for our last minute Vegan Thanksgiving roundup and do let us know if you'd like to be included!
Hi folks!
Ready for Vida Vegan Con's Speaker Reveal #6? We've been featuring a handful of our speakers each week for VVC2015, and here is the sixth, and almost final, installment. Our speakers come from all over the world and range from cookbook author to activist to blogger to athlete. So many incredibly talented passionate and inspiration people applied to speak, and we're so so excited to share, in no particular order, this group of awesome speakers:
Here they are, in randomly random order, your sixth set of Vida Vegan Con III speakers (and there's a wee bit more to come!):
Fran Costigan, Queen of Vegan Desserts 
A highly regarded veteran of the culinary world, Fran Costigan is a pastry chef, author, speaker, culinary consultant, demo instructor and graduate of both the New York Restaurant School and the Natural Gourmet Institute. There is no doubt that Fran knows her chocolate, and she'll be returning to our lineup for 2015 to show us all how it's done while "demo'ing the demo" at our opening day Vida Vegan Bazaar, sharing everything you need to know for showcasing your own cooking demo, with whatever setting you've got. The Big Apple-based "Queen of Vegan Desserts" is the author of More Great Good Dairy Free Desserts Naturally and her latest hit, Vegan Chocolate.
Julie Hasson, Julie's Kitchenette
With an impressive professional background that includes an array of popular cookbooks, cooking videos, websites, working as a private chef for celebrities, the founding of a famed Portland food cart, and new line of gluten-free baking mixes ⸺ not to mention helping us bring a little more Portland flavor to Austin ⸺ Julie Hasson returns to our lineup to discuss her diverse and successful experience, and get real on building a smart vegan business. Julie's latest cookbook was released just this past week: Vegan Casseroles.
Amey Mathews, Vegan Eats & Treats
We bet you know Amey Mathews of Vegan Eats & Treats from her charming drawings she somehow manages to include in her already exciting blog posts. (Secretly, her fine-art skills would blow you away!). Amey is passionate about yoga, art, animals, travel and is one creative and flexible cookie. She'll be sharing those passions and talent in her very own "Let's Make a Zine!" workshop at VVC2015. Hi Amey!!
Bianca Phillips, Vegan Crunk
Like to eat out? Drink out? Both out? Bianca Phillips is a savvy journalist with the The Memphis Flyer by day, and the personality behind the popular and long-running Vegan Crunk blog by night (and all other times!). Bianca returns to our lineup this May to share her take on the ethics of vegan dining and boozing (and requisite blogging, of course). Plus, we hear she has a thing or two or three to share about DIY Vegan Homebrewing. Her first cookbook, Cookin' Crunk: Eating Vegan in the Dirty South, was released in 2012.
Joni Marie Newman, Just The Food
More culinary royalty! Joni Marie Newman is the undisputed Queen of Veggie Burgers and as the author/co-author of eight vegan cookbooks and guides including The Best Veggie Burgers on the Planet, Vegan Food Gifts, and Fusion Food in the Vegan Kitchen, certainly knows her way around a cookbook. She's returning to our VVC2015 lineup ready to help you tackle your own cookbook development dreams, from concept to proposal to testing to publication. Get inspired, get thinking, get writing!
And definitely get ready: Vida Vegan Con returns in May!
From Bryant Terry to Terry Hope Romero, The Sexy Vegan and 20+ other vegan all-stars, check out the rest of our exclusive lineup reveals below:
Ready to register? Mark those calendars, commence the vegan taco call and grab your spot today!
For the latest conference happenings, make sure to sign up for our newsletter right here.
 Vida Vegan Con III ∗ May 29-31, 2015 ∗ Austin, TX
Here's the deal: We put out the call. We read the submissions. We talked. We made spreadsheets. We talked some more. We drank cup after cup of coffee and barely had time to discuss our favorite nondairy creamers of the moment. You simply cannot imagine how hard it was for us to narrow down our speaker lineup. Such amazing talent. Such fantastic voices. So much feedback to consider. Seriously, why can't Vida Vegan Con be a week long?!
But we've done it, and now we can't wait to share it with you! Each week we're featuring a handful of speakers, with a teaser of what sort of expertise they'll be sharing with you (& that's on top of the snazzy class topics sneak peek we shared earlier this summer).
As in past years, we've curated this lineup of activists, authors, experts and other leaders in their fields to share with you their skills, their unique voices, and their ability to inspire. We'll debut the official conference agenda in early 2015.
So here they are, in randomly random order, your third set of Vida Vegan Con III speakers:
Whitney Lauritsen, of Eco-Vegan Gal. 
Whitney is the founder and voice behind Eco-Vegan Gal, the long running video series and online empowerment resource, and a past attendee, to boot! As a fantastically well-informed vegan media enthusiast, she joins us at VVC2015 to discuss making "Kick-Ass Vegan Videos" in the land of YouTube. She'll talk about to easily create entertaining content, engaging your audience, making the most of your YouTube channel and the ins-and-outs of monetizing your videos.
M
ichelle Lee, of Broadview Design.
Michelle Lee is a creative professional based out of Vancouver, B.C. with a fondness for cats and vegan food (check, check!). She's a two-time VVC attendee who's joining our lineup for the first time to share her super relevant thoughts & guidance on the importance of branding. We're talking brand development, establishment, DIY methods, voice, logo, identity and just how and when to hire a professional, and what to expect And if you run in the right vegan circles, you just may recognize her as @food_and_catz over on Instagram & Twitter (and a lot of delicious vegan food and meow-makers).
Nava Atlas, of VegKitchen. 
After co-presenting one of the most popular, room-bursting classes at VVC2013 on "Monetizing Your Blog", Nava Atlas returns! Nava is a trusted culinary expert, author, and illustrator who continues on our lineup for two more engaging classes. Drawing upon her years of versatile publishing experience, she'll be presenting on the pros and cons of self-publishing and print on demand, and reuniting with Susan Voisin for new insights on the state of blogging and web monetization.
-
Joshua May, of Clue.
No stranger to VVC after lending a much-appreciated and much-needed helping hand to our registration table in 2014, Joshua May joins us at VVC2015 to get down to business on the technical side of things and discuss the costs, reach, ROI and expectations about building your very own app. It'll be a must for all the community managers and entrepeneurs out there, and more! He truly appreciates dolphins and just may have coined the term "scrofu" (aka scrambled tofu). You can catch up with him over on Twitter, @notjosh.
Hannah Kaminsky, of Bitter Sweet.
Hannah Kaminsky is many things: multi-cookbook author, award-winning blog writer, baker, photographer, recipe developer and food stylist, to name a quick few. She's certaimly a much-loved member of the Vida Vegan Con family and returns for two very special workshops on food styling and on-location photography. Stay tuned for signup!
–
–
With that, the epic countdown to Vida Vegan Con 2015 continues! You can check out the rest of the revealed only-at-Vida Vegan Con lineup right here and here.
Ready to register!?!!? Yeah! Put in for your vacation time, get ready to explore Austin's fantastic vegan happenings, and grab your spot today!
 Vida Vegan Con III ∗ May 29-31, 2015 ∗ Austin, TX