Vida Vegan Con
Happy December Holidays + Cheers to the almost New Year!
We seriously dug checking out all of your celebrating and creativity for the #veganholidays these past few days! Here is just a handful of all the beautiful, memorable and tasty happenings that caught our eyes from such an inspiring collection. Personally, I went out to one of my favorite Thai spots on xmas to avoid cooking, so it was pretty dang fun to live so vicariously!
Check out all of these lovely folks' feeds for more.
First up, some mini mince meat pies adorned with little stars, courtesy of Jojo, aka @veganinbrighton!
Next up, let's head to Melbourne with @veganmiam for a slice of this lovely, raw christmas cheesecake from Pana Chocolate:
Here's @astigvegan's "Champorado", a chocolate rice porridge with coconut milk and salty, seaweed-dredged tofu.
Sweet + salty? Count me in.
So much charm: Fresh mint & pineapple punch and cunningly *deviled potatoes* from @plantmunchers
Here's a gorgeous and rather jolly green smoothie from @chemese:
Ponder this: Is the best part of gingerbread cookies decorating them however the heck you want, or what?!?
What we mean is, @ameyfm's kitchen is quite inspired!
More sweets: @21stcenturyeden breaks out some fantastic vegan peanut butter twix:
I'll let the caption for this next one speak for itself, go figure…
"Christmas-ing our balls off. Spot the many vegan options, including my beloved @auntieloostreats' Yule log!" via @lbennet3
George, always quite the star. via @pandawithcookie
The following cheeseball has been haunting my dreamssssss. via @vegancuts by @johnwiseman
Must. Make.
Give it up for @dimsimkitty and these surely tasty vegan ham & cheese croissants:
Lush love: @ethical_vegan received one heck of a sweet haul!
Yes, please! Traditional Vanille-Kipferl from @nathalie.claire:
@Plantenergy_ brightens up the party with her refreshing veggie sushi:
Let's be real, there's always room for biscuits, especially when they look as comforting and savoury as @jlgoesvegan's recent take:
As if we'd close things down without a slice of buche de noel. This one is adorned with marzipan mushrooms, for peter's sake! via @vegans_for_peace by @joaniebhansen
'Til next time! Happy New Year, everyone!
(21 weeks 'til Vida Vegan Con 2015! Register here.)
For more strolling, head to #veganholidays on Gramfeed
Rewind!
Vida Vegan Con organizers Janessa and Michele have returned even more enamored with Austin after a week of very important meetings and venue walk-throughs and just as necessary vegan food truck hopping. They met with old VVC family, new speakers, and met some local Austin business owners, cooking up all sorts of plans for May 2015. Did you spy them around town, margarita or black coffee in hand?
Here's a few photos of what they were up to:
Meanwhile, back in Portland, Jess held down the Vida Vegan HQ homebase (make that: whatever coffeeshop she happened to be running into, then being Tula) and remained obsessing over all things vegan mac & cheese with a certain sold out showcase taking place.
What's new with you?
Stay tuned this week for our last minute Vegan Thanksgiving roundup and do let us know if you'd like to be included!
Hey, ghoul. Hey.
Halloween season has arrived and the pumpkins are out!
Whether you're picking up some sweet confections for your own kids, the neighborhood, a rather mature costume party or it's the combination of childhood nostalgia + all those dang candy sales getting to you, it's time to consider your vegan options this week!
As vegans with internet access, we should all know by now that PETA offers this here list (make sure to double and triple check, you know, do the vegan thing, for confectioner's glaze and sneaky, sneaky things like that) and recently spotlighted these 25 Vegan Halloween Candies. And VegNews jumped in on the fun just last week with their own 2014 Vegan Candy Guide for the festivities, which can only mean one thing…it's our turn!
From eyeball-inspired sweets to the contemplation of pumpkin hot toddies, we've been poking around the internet again and are ready to share some Vegan Halloween inspiration at Vida Vegan Headquarters (including a bunch of folks from our VVC family!)
Vida Vegan HQ presents: 18 Vegan Halloween Ideas
First up, something classic, yet veganized, this way come…
1) DIY Vegan Candy Corn, Freepeople.com
Next up, let me give a little "omg omg" and send some thanks to the folks at Vegan Cuts for pointing us this way!
2) Pumpkin Spice Caramels (& more!), Coracao Confections
Naturally ⸺ or, not naturally, that is ⸺ it's certainly not Halloween without some creepy edibles:
3) Witches' Fingers, Urban Vegan (2011 speaker!)
Are there vegan gummy worms at the bottom of this bucket of candy? Or more importantly, does anyone make vegan gummy worms and have a bag they can send me for some chocolate dirt & worms action? Mmm, yuck, mmm, yuck.
4) Halloween selections from Sjaack's Organic Chocolates
Ah, something healthy to sink your teeth into, ba da bum: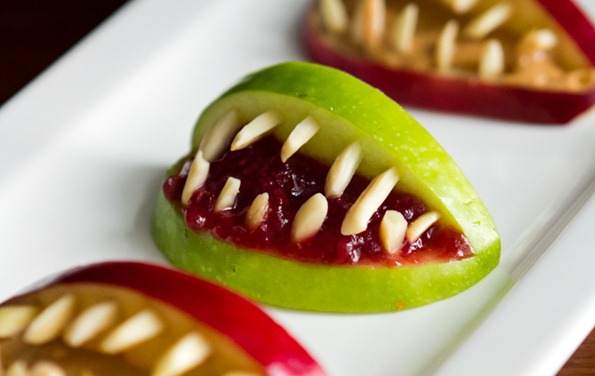 5)  3 Ingredient Halloween Apple Bites, Oh She Glows (2013 attendee!)
These are really cute.
6) Trick or Treat Pack, Surf Sweets
Moving on, would you prefer the following with or without booze?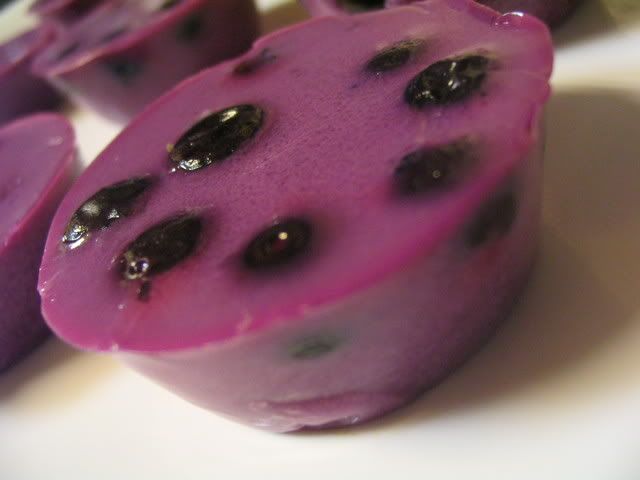 7) BOO-Berry Jiggers,Joni Marie Newman's Just the Food (soon to be 3-time VVC speaker!)
I must have this in my life. It's utterly adorable.
8) Shrunken Heads in Spiced Apple Cider, Martha Stewart
Also adorable? (…and this could be my years of obsessive Anne Rice reading talking)
9) Vegan Vampire Cupcakes, Koko's Kitchen
Speaking of…
10) Vampire Tacos, Vegan Tacos by Jason Wyrick via Vegan Heritage Press
There's at least a few of you planning on (blooooody) pumpkin tacos, right?! I wouldn't doubt it.
Let's get to the point:
11) Stuffed Mushroom Eyeballs, Vegan Yack Attack
The one thing I've crossed off my list this week so far:
12) Halloween Sugar Cookies, Earth Balance Natural
Did pumpkin finally sell out? Maybe. But do I still have pumpkin fever? Yes.
13) Baked Penne with Pumpkin Cream Sauce, Julie Hasson's Vegan Casseroles via Bake and Destroy (Julie joins us for a 2nd VVC in May, phew)
Hello, thematically-inclined bubble tea:
That calls for some sake in there, if you know what I mean (which to clarify, is exactly what I said about wanting sake).
14) Creepy Bubble akaTapioca Pearl Cocktails, Instructable via Dabbled.org
Real food below! Not candy! Keep going!
15) Halloween Wild Rice, Bitter Sweet blog (3 timer!)
Yeah, pumpkin, we heart ya still.
16) Spicy Pumpkin Soup (video episodle!), The Sexy Vegan (2015 VVC Speaker!)
One more from Jackie, 'cause, breakfast:
17) Pumpkin Pie Smoothie, Vegan Yack Attack (2013 attendee & 2015 speaker!)
And for a post-breakfast treat this week, you know what fits the bill:
Hi Bianca! Hi ice cream!
18) So Delicious Halloween Ice Cream Bars on Vegan Crunk (soon to be 3-time VVC speaker!!) 
Store locator here.
Oh, yes:
What do you have in store? Have a creepy, crawly vegan-tastic blog post or idea to share? Let us know, and we just may include it over on our Instagram!
Got your homemade nooch monster costume ready? Pics or it didn't happen.
Hi folks!
Ready for Vida Vegan Con's Speaker Reveal #6? We've been featuring a handful of our speakers each week for VVC2015, and here is the sixth, and almost final, installment. Our speakers come from all over the world and range from cookbook author to activist to blogger to athlete. So many incredibly talented passionate and inspiration people applied to speak, and we're so so excited to share, in no particular order, this group of awesome speakers:
Here they are, in randomly random order, your sixth set of Vida Vegan Con III speakers (and there's a wee bit more to come!):
Fran Costigan, Queen of Vegan Desserts 
A highly regarded veteran of the culinary world, Fran Costigan is a pastry chef, author, speaker, culinary consultant, demo instructor and graduate of both the New York Restaurant School and the Natural Gourmet Institute. There is no doubt that Fran knows her chocolate, and she'll be returning to our lineup for 2015 to show us all how it's done while "demo'ing the demo" at our opening day Vida Vegan Bazaar, sharing everything you need to know for showcasing your own cooking demo, with whatever setting you've got. The Big Apple-based "Queen of Vegan Desserts" is the author of More Great Good Dairy Free Desserts Naturally and her latest hit, Vegan Chocolate.
Julie Hasson, Julie's Kitchenette
With an impressive professional background that includes an array of popular cookbooks, cooking videos, websites, working as a private chef for celebrities, the founding of a famed Portland food cart, and new line of gluten-free baking mixes ⸺ not to mention helping us bring a little more Portland flavor to Austin ⸺ Julie Hasson returns to our lineup to discuss her diverse and successful experience, and get real on building a smart vegan business. Julie's latest cookbook was released just this past week: Vegan Casseroles.
Amey Mathews, Vegan Eats & Treats
We bet you know Amey Mathews of Vegan Eats & Treats from her charming drawings she somehow manages to include in her already exciting blog posts. (Secretly, her fine-art skills would blow you away!). Amey is passionate about yoga, art, animals, travel and is one creative and flexible cookie. She'll be sharing those passions and talent in her very own "Let's Make a Zine!" workshop at VVC2015. Hi Amey!!
Bianca Phillips, Vegan Crunk
Like to eat out? Drink out? Both out? Bianca Phillips is a savvy journalist with the The Memphis Flyer by day, and the personality behind the popular and long-running Vegan Crunk blog by night (and all other times!). Bianca returns to our lineup this May to share her take on the ethics of vegan dining and boozing (and requisite blogging, of course). Plus, we hear she has a thing or two or three to share about DIY Vegan Homebrewing. Her first cookbook, Cookin' Crunk: Eating Vegan in the Dirty South, was released in 2012.
Joni Marie Newman, Just The Food
More culinary royalty! Joni Marie Newman is the undisputed Queen of Veggie Burgers and as the author/co-author of eight vegan cookbooks and guides including The Best Veggie Burgers on the Planet, Vegan Food Gifts, and Fusion Food in the Vegan Kitchen, certainly knows her way around a cookbook. She's returning to our VVC2015 lineup ready to help you tackle your own cookbook development dreams, from concept to proposal to testing to publication. Get inspired, get thinking, get writing!
And definitely get ready: Vida Vegan Con returns in May!
From Bryant Terry to Terry Hope Romero, The Sexy Vegan and 20+ other vegan all-stars, check out the rest of our exclusive lineup reveals below:
Ready to register? Mark those calendars, commence the vegan taco call and grab your spot today!
For the latest conference happenings, make sure to sign up for our newsletter right here.
 Vida Vegan Con III ∗ May 29-31, 2015 ∗ Austin, TX
You know the deal: We put out the call. We read the submissions. We talked. We made spreadsheets. We talked some more. You simply cannot imagine how hard it was for us to narrow down our speaker lineup. Such amazing talent. Such fantastic voices. So much feedback to consider. Seriously, why can't Vida Vegan Con be a week long?!
But we've done it, and now we are so excited to share it with you! Each week we're featuring a handful of speakers, with a teaser of what sort of expertise they'll be sharing with you (and that's on top of the class topics sneak peek we shared earlier this summer).
As in past years, we've curated this lineup of activists, authors, experts, and other leaders in their fields to share with you their skills, their unique voices, and their ability to inspire. We'll debut the official conference agenda in early 2015.
So here they are, in randomly random order, your fourth set of Vida Vegan Con III speakers (and there's still more to come!):
Bryant Terry, Afro-Vegan
We are beyond ecstatic to have this award-winning author, chef, educator, and food justice activist join our lineup for 2015. Bryant is the author of The Inspired Vegan, Vegan Soul Kitchen, Grub, and his latest, Afro-Vegan, and he will surely inspire you to learn and do more to create a healthy, just, and sustainable food system.
Christy Morgan, The Blissful Chef
Seasoned personal chef, cookbook author, blogger, food coach, and VVC alumnae, Christy is a Certified Personal Trainer and the editor of Definition magazine. She's joining our 2015 lineup to talk about finding common ground in different forms of activism. She's also a bodybuilder, and is currently giving a Yoga and Wellness Retreat in Bali!
Jill Pyle, Vegan Cuts
The face of the hugely successful Vegan Cuts, reliably and consistently sparking the community with excitement over new vegan products, Jill will share her self-made expertise on turning your passion into a profitable career. Hello, next wave of Internet entreprenuers! This one's for you—and everyone else who enjoys getting vegan treats in the mail.
Lacy Davis, Super Strength Health
Another new speaker to our 2015 lineup, Lacy is a health coach and vegan fitness enthusiast teacher who'll present on the must-have-discussions of veganism, body image, ED recovery and the influence of online media. She "refuses to let society dictate [her] sense of fulfillment and self worth," and really digs tacos and green smoothies. (High-fives!)
Randi Milgram, Laughfrodisiac
Randi owns our heart because she started her witty, engaging blog after attending VVC 2013! In her free time, she's been known to veganize the recipes from Friends, but by day, she's a lawyer specializing in intellectual property. She'll be presenting a unique class on legal info for online content—what rules you need to follow and how you can protect your work and your brand.
And so we bring a close to round four of our speaker reveals—and we've got a couple more rounds to go! Check out the rest of the revealed lineups:
Ready to register? Yeah, you know it. So put in for your vacation time, get ready to explore Austin's fantastic vegan scene, and grab your spot today!
 Vida Vegan Con III ∗ May 29-31, 2015 ∗ Austin, TX