Tips
Hey, ghoul. Hey.
Halloween season has arrived and the pumpkins are out!
Whether you're picking up some sweet confections for your own kids, the neighborhood, a rather mature costume party or it's the combination of childhood nostalgia + all those dang candy sales getting to you, it's time to consider your vegan options this week!
As vegans with internet access, we should all know by now that PETA offers this here list (make sure to double and triple check, you know, do the vegan thing, for confectioner's glaze and sneaky, sneaky things like that) and recently spotlighted these 25 Vegan Halloween Candies. And VegNews jumped in on the fun just last week with their own 2014 Vegan Candy Guide for the festivities, which can only mean one thing…it's our turn!
From eyeball-inspired sweets to the contemplation of pumpkin hot toddies, we've been poking around the internet again and are ready to share some Vegan Halloween inspiration at Vida Vegan Headquarters (including a bunch of folks from our VVC family!)
Vida Vegan HQ presents: 18 Vegan Halloween Ideas
First up, something classic, yet veganized, this way come…
1) DIY Vegan Candy Corn, Freepeople.com
Next up, let me give a little "omg omg" and send some thanks to the folks at Vegan Cuts for pointing us this way!
2) Pumpkin Spice Caramels (& more!), Coracao Confections
Naturally ⸺ or, not naturally, that is ⸺ it's certainly not Halloween without some creepy edibles:
3) Witches' Fingers, Urban Vegan (2011 speaker!)
Are there vegan gummy worms at the bottom of this bucket of candy? Or more importantly, does anyone make vegan gummy worms and have a bag they can send me for some chocolate dirt & worms action? Mmm, yuck, mmm, yuck.
4) Halloween selections from Sjaack's Organic Chocolates
Ah, something healthy to sink your teeth into, ba da bum: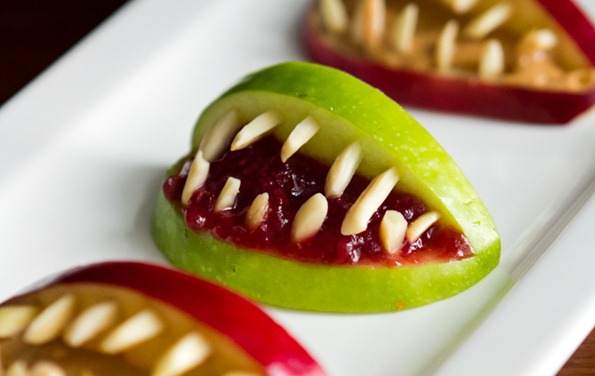 5)  3 Ingredient Halloween Apple Bites, Oh She Glows (2013 attendee!)
These are really cute.
6) Trick or Treat Pack, Surf Sweets
Moving on, would you prefer the following with or without booze?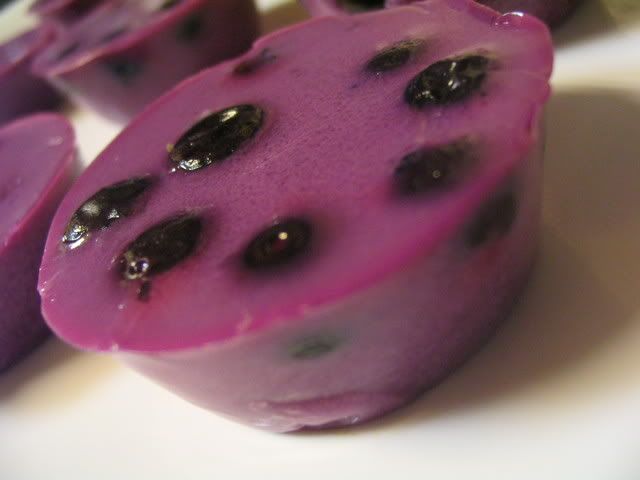 7) BOO-Berry Jiggers,Joni Marie Newman's Just the Food (soon to be 3-time VVC speaker!)
I must have this in my life. It's utterly adorable.
8) Shrunken Heads in Spiced Apple Cider, Martha Stewart
Also adorable? (…and this could be my years of obsessive Anne Rice reading talking)
9) Vegan Vampire Cupcakes, Koko's Kitchen
Speaking of…
10) Vampire Tacos, Vegan Tacos by Jason Wyrick via Vegan Heritage Press
There's at least a few of you planning on (blooooody) pumpkin tacos, right?! I wouldn't doubt it.
Let's get to the point:
11) Stuffed Mushroom Eyeballs, Vegan Yack Attack
The one thing I've crossed off my list this week so far:
12) Halloween Sugar Cookies, Earth Balance Natural
Did pumpkin finally sell out? Maybe. But do I still have pumpkin fever? Yes.
13) Baked Penne with Pumpkin Cream Sauce, Julie Hasson's Vegan Casseroles via Bake and Destroy (Julie joins us for a 2nd VVC in May, phew)
Hello, thematically-inclined bubble tea:
That calls for some sake in there, if you know what I mean (which to clarify, is exactly what I said about wanting sake).
14) Creepy Bubble akaTapioca Pearl Cocktails, Instructable via Dabbled.org
Real food below! Not candy! Keep going!
15) Halloween Wild Rice, Bitter Sweet blog (3 timer!)
Yeah, pumpkin, we heart ya still.
16) Spicy Pumpkin Soup (video episodle!), The Sexy Vegan (2015 VVC Speaker!)
One more from Jackie, 'cause, breakfast:
17) Pumpkin Pie Smoothie, Vegan Yack Attack (2013 attendee & 2015 speaker!)
And for a post-breakfast treat this week, you know what fits the bill:
Hi Bianca! Hi ice cream!
18) So Delicious Halloween Ice Cream Bars on Vegan Crunk (soon to be 3-time VVC speaker!!) 
Store locator here.
Oh, yes:
What do you have in store? Have a creepy, crawly vegan-tastic blog post or idea to share? Let us know, and we just may include it over on our Instagram!
Got your homemade nooch monster costume ready? Pics or it didn't happen.
Love it or hate it, there are less than 24 hours to mentally prepare for another Valentine's Day.
Whether you're staying in with a mail order from Lagusta's Luscious and Casablanca, off to a romantic dinner, attempting to say the phrase "Galentine's Day" out loud, or making tots and deciding to conquer a few seasons of Game of Thrones, Valentine's Day is about love and celebrating' that special day with yourself, your loved ones, or your cat. In any case, we hope you spend the day in an enjoyable manner with only a smattering of pink confetti and a bit of thanks in your heart for the people you love.
Here are some ideas from all of us at Vida Vegan Headquarters on a variety of ways to make the evening special, and some topics to tackle blogging (whether you have a bit of spare time tomorrow, decide to Instagram dinner, or tackle writing about it all next week):
Find those cookie cutters. Yes, you could easily make heart-shaped pancakes or a cake or even polenta/quinoa molds, but how about dinosaurs? Who doesn't love dinosaurs?! Plus, it really gets you thinking about the past and future, so ring-a-ding-ding…or, just figure out how to make every single thing you eat that day heart-shaped.

RSVP Cookie Cutters. Somewhere in the back of your drawer.

Sneaky, sneaky. Does your significant other or bff(s) read your blog? Probably. Maybe (or maybe they say they do). Try posting about something TOTALLY different than what you actually have planned. Surprise, surprise.
Go big and go garlic. Roasted garlic lasagna and garlic bread sounds lovely. It's called intimacy, right?
DIY V-Day Craft Ideas: Make your own science-y valentine, like these!  Subversive Cross Stitch 

is always there for you. Um…

therapeutic pin cushion?
You Time.Stay in, say screw it, and pop in (okay, stream) some cheesy '80s horror and actually pop some popcorn while you brush your cat's hair. We know you have at least one cat.
Date Night. Go on, go out to dinner at a vegan (or vegan-friendly) restaurant if you want to! Whether it's a fancy date, take out, a dive bar, or a slice, you deserve it. 
We Get You. Seriously, have dinner with your cat. Serve everything in wine glasses.
Schadenfreude. Share your worst adolescent breakup story, that horrible Roxette song that was somehow "yours," and recreate (veganize) the mall-food-court super deluxe cheese fries you shared on your first date.

Your Soundtrack

: Get down with your single self with Spotify's 'Singleton' playlist. Or, if you've got a sweetie, annoy them with these Spotify love song playlists while makin' dinner or makin' out.
Break Out the Candles. Any night's an excuse for a lovely homemade, vegan meal for two (or three, or whatever's your bag), V Day's the big leagues. Here are some  romantic recipe ideas to get you inspired:
Ancho Chocolate Pie and Butternut Squash Ice Cream from Vegan Secret Supper. Image source: Alternatives Journal
I know, one mere dessert recipe?! As if you don't have something already up your sleeve.
Rest assured, #11 is an honorary mention (aka one big duh) for thematically-inclined bubbles, cocktails & mocktails, of course.
Enjoy your day, whatever you do, and feel free to share your ideas and plans in the comments!
It's that special time of year, where it seems like every other blog popping up on your reader is showing off the latest holiday gift guide. If not that, it's talking about what cookies they love to make this holiday season, links of tried-and-true recipes in tow. These are both great ideas for seasonal blog posts, but there's plenty more to talk about, and to make your own.
Here at Vida Vegan Headquarters, we've put together a list of 15 holiday-themed blogging suggestions to inspire you to inspire others, this winter:
15 Ideas to Get You Blogging This Holiday Season
Veganize family favorites and share the recipe and the memories.
Homemade gifts ideas. That's right, go get fabulously lost on the DIY Xmas Gifts-land that is Pinterest this morning.
Holiday meal planning: the classics and the brave new dishes.
Kindness. Spread the cheer & pay it forward.
DIY decorating: Hello, Snowman fridge.
Winter picnics with chocolate chip cookies and mugs of mulled cider or peppermint candy cane vodka-infused hot cocoa.

Speaking of mugs…… 'Tis the season for warm drinks.

Winter picnics with chocolate chip cookies and mugs of mulled cider or peppermint candy cane vodka-infused hot cocoa.
A new round-up of the  best soups in town.
Tips on throwing a themed holiday party…Festivus, anyone?
Sharing New Year's resolutions that will seriously  help the world: organize a sanctuary work party; join in the Worldwide Vegan Bake Sale; vow to compost, etc.
Vegan nog-off (or hot chocolate-off) It's a tough job, but…
Eco-wrapping. One more intense round of Pinterest to explore.
Talk about your favorite nonprofits (Holiday season is also tax write-off season — find out who's got fund-matching!)
Life lessons: share your vegan-through-the-family-holidays survival guide.
Or….Screw the seasons! Keep doing what you do!
Got something great in the works? Instagram it in-progress, giving a nice behind-the-scenes, authentic look at what you've got in store. If you've been posting about the holidays, we'd love to read about it. Leave a comment with a link and share your plans in the comments!
Like every other friend we talk to lately, we've got homemade holidays on the collective brain at Vida Vegan Headquarters, and brainstorming and recipe testing for our upcoming Holiday Hors D'oeuvres & How-Tos! (aka our holiday entertaining class & cocktail shindig) is only making it that much more difficult to contemplate meals without grated nutmeg and cranberry.
Here are some last-minute, vegan Thanksgiving recipes and ideas catching your friendly organizers' eyes, and some from our own archives and memories, for the fast-approaching Thanksgiving….Thanksliving…..Thanksgivukkah…..Thursday eats, whatever you'd like to call it.
Janessa's favorite picks:
1 bottle sparkling wine
1-2 pomegranates' worth of seeds
12 oz pomegranate juice
Pour bubbles into a tall champagne flute. Add half dozen to a dozen pomegranate seeds, and top with a splash of pomegranate juice. The seeds bounce up and down in the bubbles, creating a Lava Lamp-esque effect.*Makes 4-6 Lava Lamps.
Jess' tried-and-true picks:
Michele's cozy picks:
While I'm just as likely to make pizza or pasta, here are some more traditional holiday dishes:
Some of my favorites for which I've never had recipes are stuffin' muffins (stuffing made in muffin tins), crispy baked chickpeas, roasted sweet potatoes, and any ol' hunk of bread with roasted elephant garlic and parsley butter.
Vegan Thanksgiving in Portland & Beyond
And if you're staying in, how about mixing things up and putting together a special Korean dolsot bibimap, Papa Tofu Loves Ethiopian spread (from Vida Vegan Con alumnae Kittee Berns) or even picking up take-out from a vegan-friendly restaurant, grocery store or caterer open in your neighborhood? There's often something extra fun about breaking tradition, and most importantly, creating your own.
If you're in the Portland area like us, here are some suggestions:
The incredibly well-attended, 10th Annual NorthwestVeg Compassionate Thanksgiving Potluck is also happening on November 24th at Benson High School. Registration here.
Outside of Portland?
We'd love to hear about your own very special, traditional or otherwise, American Thanksgiving plans (or Canada's earlier this year!) and tried and true recipes.
Do feel free to let us know of any other spots open in your neighborhood.
Happy Feasting!
Stay tuned for more from our Vida Vegan holiday guides & news on our holiday events.
The early bird discount for our upcoming holiday celebration ends next week!