Author:
jess sconé
You're Invited!
Join us for a winter wonderland of a Google Hangout this Sunday with VVC2015 Speaker Eco-Vegan Gal!
When: Sunday, December 7, 2014 starting at 11amPST/1pmCST/2pmEST for one hour
Who: Vida Vegan Con's Janessa Philemon-Kerp, Jess Sconé, and Michele Truty, special guest Whitney Lauritsen and anyone who joins us!
What: Join Vida Vegan Con founders Janessa, Jess and Michele to discuss winter holiday recipes, memories, entertaining tips and hear some big announcements about what's in store at Vida Vegan Con III in May. We'll be joined by a special guest, Whitney Lauritsen aka Eco-Vegan Gal, who'll be sharing her own holiday tips in a live Q & A, what she's been up to and what this self-made YouTube star has planned for her own special class at VVC2015.
Hold up! Bonus! Well, Jess is pretty sure she clicked all the correct buttons to make this broadcast (and record!) live! This means you don't have to "join" in on the chat to witness our shenanigans, but if you do, you're a part of the fun!
Whether you're attending, thinking about grabbing a ticket or just super wish you could be there, this is a chance to ask us all your questions about Vida Vegan Con.
Where: Google Hangout! Here's the event page: Vida Vegan Con December Hangout. You don't have to have the silly world of Google Plus all figured out by any means: just click on the link and check the event out! We do recommend that you turn off the event notifications (Boooooring).
RSVP & we'll see you there!
P.S. Looking for more vegan holiday entertaining ideas? Download our 2013 Holiday E-Zine for a mere $3 bucks! Created for last December's Holiday Hors D'oeuvres & How-Tos event, this e-zine is filled with wintry recipes as well as craft instructions, decorating tips, and gift ideas. Recipes include Cauliflower "Goat Cheese" and Baked Maple Whiskey Popcorn!
You like fluffy biscuits? We adore fluffy biscuits! You like gravy? We lo-o-o-ve gravy! Here at Vida Vegan HQ, Janessa's daydreaming of mashed potatoes and pie, Michele is gonna get down with some stuffing in a very special way, and I'm seriously craving sweet potatoes, which can only mean one thing: let's talk Vegan Thanksgiving recipes! It's last minute, for sure, but there's always time to add another pie to the menu. Sheesh.
With the need for an assortment of pies, savoury stuffing and whatever seitan/tofu/en croute is the latest and greatest or best of the rest, let's grab a plate, enjoy with loved (or liked!) ones, and keep menu planning for one delicious American Thanksgiving afternoon!
And may we suggest, if your American T-Day celebration isn't as cruelty-free as you may like (oh, family), we recommend you find your local veg group, or start your own vegan potluck with friends, and veganize the heck out of your family favorites on another day. Enjoy!
Check out these

Vegan Thanksgiving

photos & holiday tips from our own Vida Vegan Con 2015 Speakers & Friends:
-
Starting things off with a little something something…
Apple Pie on the Rocks, via Vegan Yack Attack. Cheers, Jackie!
Perhaps the ultimate fall comfort food, we have a legit Lentil Shepherd's Pie with Mashed Parsnip and Potato Mash, courtesy of Gena Hamshaw of Choosing Raw, via Food 52. Check out Gena's tips on veganizing your own Thanksgiving, including her "perfect vegan pie crust", over here.
For even more tips and on all things mashed potatoes, gravy and stuffing, check out The Sexy Vegan's latest holiday episode. He's quite the informative fella!
This one has definitely become a new Vegan Thanksgiving classic: Joni Marie Newman's Seitan en Croute from 500 Vegan Recipes. Mmmm, "en croute".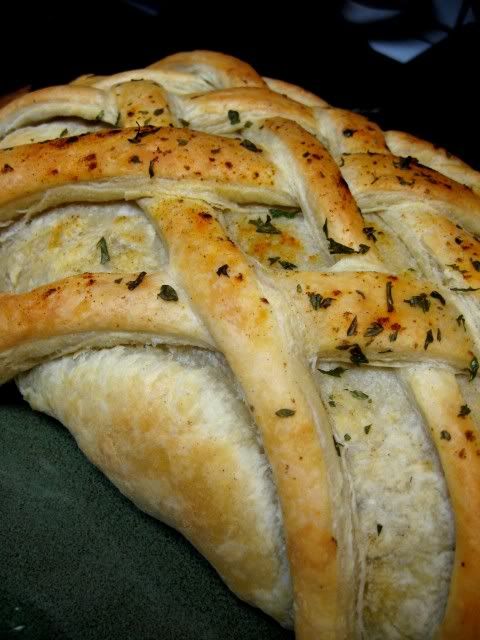 It's quite the savoury masterpiece. The recipe is up on Just the Food. You know what to do.
Here in Portland, Oregon, we look forward to food writer Grant Butler's holiday recipe guides in The Oregonian every year. I seriously found my new favorite pie thanks to his pieces last year, veganizing Four & Twenty Blackbirds' Black Bottom Oatmeal Pie for the second year in a row just yesterday.
Check out Grant's most recent, talking all things cranberry sauce (with some recipes, of course): 7 Thanksgiving cranberry sauce, relish and chutney recipes, via Oregonian FoodDay.
Another holiday favorite goes to Isa Chandra Moskowitz's Chickpea Cutlets:
Since Veganomicon's release in 2007, I have been to so many potlucks and dinners that have starred these great patties (okay, fine, and last year she made them inside my apartment. Wowzers.)
Okay, we've got the seitan, so don't forget the biscuits!!
Fluffy Biscuits & Creamy Sage Gravy, Julie Hasson's Vegan Diner
Frankly, it's almost time for pie, so let's get down with some sweet potatoes as a stepping stone. The aroma of mashed sweet potatoes, cinnamon & pecan is my ultimate holiday food nostaglia, and this one looks deeeee-lightful:
The Blissful Chef's Sweet Potato Casserole with Maple Pecan Topping
Want your mashed sweet potatoes to be SWEET potatoes? Er….yams? Sayward's got ya covered with these Traditional "Dandied" Yams:
If you're like me, you've been known to insist on mac & cheese as part of your Vegan Thanksgiving spread.
Monique over at Brown Vegan knows what I'm talking about, and is a fellow lover of the non-traditional VegNews recipe that made waves a few years ago. She's got it posted up over here.
You made it through! It time for pie!
First up, this absolutely gorgeous chocolate pecan pie from chocolate guru Fran Costigan:
And goodness, gracious: Maple Yam-Ginger Pie from Bryant Terry's Vegan Soul Kitchen.
You can find that recipe up on FancyFoodFancy.
And when in doubt, both the Voluptuous Vegan and Bryanna Clark Grogan have epic offerings of their own. Isa has the first recipe up on ThePPK.
And hey, both Hannah Kamsinky and Dynise Balcavage have released exclusively vegan pie cookbooks in recent years.
What a beautiful time for veganism.
And because some of us really like to go back for more stuffing, we've got two more for ya, of the cornbread persuasion:
Cornbread Sofrito Stuffing with Veggie Chorizo, courtesy of Terry Hope Romero on Vegan Latina.
And one more for the road: Vegan Southern-Style Cornbread Stuffing, courtesy of Susan Voisin on Fatfree Vegan.
For more ideas, check out these real life Thanksgiving Feasting recaps from our friends Bianca Phillips, Sayward Rebhal, Lisa Coulson (aka Panda with Cookie) & Jackie Sobon:
Thanksgiving Recap, or, Tale of Unturkey, via Vegan Crunk
What we ate Wednesday: THANKSGIVING!, via Bonzai Aphrodite
All things Vegan Thanksgiving on Vegan Yack Attack
Vegan Thanksgiving Recipes & Plans, via Panda with Cookie
Plus, Vegan Cuts has this awe-inspiring Vegan Thanksgiving Pinterest collection.
Go team, go!
One small thing that makes a big difference? Print out or hand write a nice menu for your delicious spread, and post it on the wall. We bet it'll get your company even more excited!
As for us, Janessa's whole family will be together for the first time in years! Their plans include pumpkin pie, pizza and going outside to play "Leaf Extreme". Michele is gonna be getting down with some of these, and I'm bringing Shiraz, chocolate cream pie and biscuit dough (Dude, you better believe it's homemade!) to a small get-together (while craving Thai food, no doubt). My evening plans include relaxing with my partner, more pie, and Skyping my sister and her new dog.
And if you need an idea for staying in and avoiding the world, may we suggest keeping calm, picking up some Pad Thai and Pumpkin Curry, and relaxing with some quirky science fiction on Netflix. Nice.
We ♥ our Vida Vegan members, and we bet you will, too!
It's time to catch up with another featured member from our Vida Vegan Membership collection, and this time we're talking with Kat Mendenhall, the multi-talented creator of Kick Butt Boots! We're sharing just what this vegan lifestyle coach, culinary nutritional expert and boot maker's been up to lately & excited about—and just what restaurant she'd pick to dine at for the rest of her life. Let's be real: It's a great one! Recently, Kat was the first vegan chef to provide a demo at the Texas State Fair's Celebrity Kitchen, and had her own booth at the epic Texas Veggie Fair in Dallas!
So, Kat, what excites you most about veganism today?
I've been vegan for five years and the explosion I've seen during that time is simply unbelievable. From new vegan food products, clothing, shoes, cookbooks, etc. The awareness of the cruelty to animals is more visible, including the health hazards of consuming animal products. In addition the rise in environmental efforts to control, stop, and change the food industry from poisoning our planet and the environment. Minds are being open, people are demanding change, and the world is beginning to improve for the better. That is super exciting!
What have you been up to lately? Any projects you'd like to share?
I teach cooking classes at Ozark Natural Foods in Fayetteville, Arkansas twice a month. I also hold monthly workshops in Dallas based around specific themes. [Recently, it was] all about the guys,"Tailgating Without the Meat". I also continuously work on the development phase of creating a Texas designed cruelty-free cowboy boot.
Have any critters at home you'd like to brag about?
A 4 1/2 year old rescue dog, Izzy, my grand kitty Abbott, and a 1 1/2 year old pit bull we recently picked up wandering out on a country road in Arkansas, Belle.
If you were suddenly transformed into one creature, what do you think it would be?
Is this a trick questions? A "cat" of course!
If you could have a sanctuary for any creature in the world, what would they be?
Cows with plenty of dogs and cats around to keep them company.
What's your favorite breakfast to make on a day off?
Vegan biscuits with 'sausage" gravy; cruelty-free comfort food at it's best.
What is your favorite word?
Ridicalickanoculous, my own creation!
We're taking Vida Vegan Con on the road! How has Austin, TX caught your eye?
Caught my eye and my heart! I love that it is unique and holds tight to its Texas roots despite its growth.
Where do you most want to travel, but have never been?
Italy, on the calendar for next year!
All right, if you could only eat at one restaurant for the rest of your life, what would it be?
Candle Cafe in New York City
Hellooo, legendary porcini-crusted seitan, and thank you for the answers & cravings, Kat!
Hey, ghoul. Hey.
Halloween season has arrived and the pumpkins are out!
Whether you're picking up some sweet confections for your own kids, the neighborhood, a rather mature costume party or it's the combination of childhood nostalgia + all those dang candy sales getting to you, it's time to consider your vegan options this week!
As vegans with internet access, we should all know by now that PETA offers this here list (make sure to double and triple check, you know, do the vegan thing, for confectioner's glaze and sneaky, sneaky things like that) and recently spotlighted these 25 Vegan Halloween Candies. And VegNews jumped in on the fun just last week with their own 2014 Vegan Candy Guide for the festivities, which can only mean one thing…it's our turn!
From eyeball-inspired sweets to the contemplation of pumpkin hot toddies, we've been poking around the internet again and are ready to share some Vegan Halloween inspiration at Vida Vegan Headquarters (including a bunch of folks from our VVC family!)
Vida Vegan HQ presents: 18 Vegan Halloween Ideas
First up, something classic, yet veganized, this way come…
1) DIY Vegan Candy Corn, Freepeople.com
Next up, let me give a little "omg omg" and send some thanks to the folks at Vegan Cuts for pointing us this way!
2) Pumpkin Spice Caramels (& more!), Coracao Confections
Naturally ⸺ or, not naturally, that is ⸺ it's certainly not Halloween without some creepy edibles:
3) Witches' Fingers, Urban Vegan (2011 speaker!)
Are there vegan gummy worms at the bottom of this bucket of candy? Or more importantly, does anyone make vegan gummy worms and have a bag they can send me for some chocolate dirt & worms action? Mmm, yuck, mmm, yuck.
4) Halloween selections from Sjaack's Organic Chocolates
Ah, something healthy to sink your teeth into, ba da bum: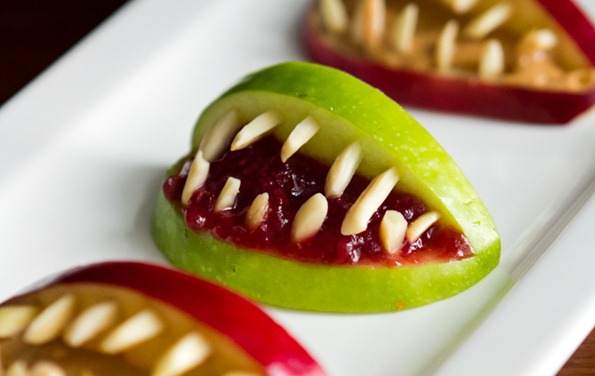 5)  3 Ingredient Halloween Apple Bites, Oh She Glows (2013 attendee!)
These are really cute.
6) Trick or Treat Pack, Surf Sweets
Moving on, would you prefer the following with or without booze?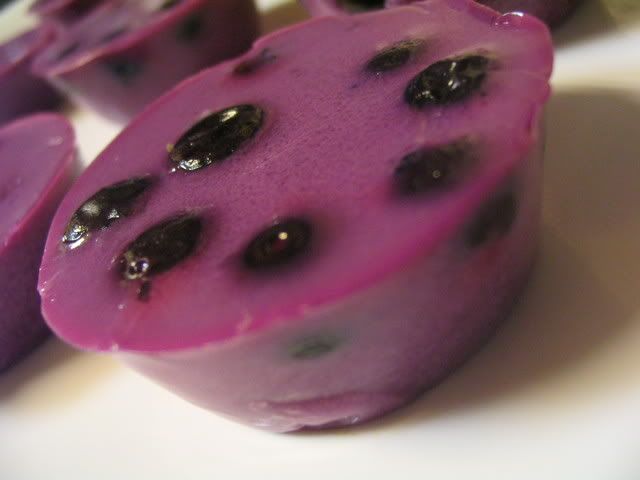 7) BOO-Berry Jiggers,Joni Marie Newman's Just the Food (soon to be 3-time VVC speaker!)
I must have this in my life. It's utterly adorable.
8) Shrunken Heads in Spiced Apple Cider, Martha Stewart
Also adorable? (…and this could be my years of obsessive Anne Rice reading talking)
9) Vegan Vampire Cupcakes, Koko's Kitchen
Speaking of…
10) Vampire Tacos, Vegan Tacos by Jason Wyrick via Vegan Heritage Press
There's at least a few of you planning on (blooooody) pumpkin tacos, right?! I wouldn't doubt it.
Let's get to the point:
11) Stuffed Mushroom Eyeballs, Vegan Yack Attack
The one thing I've crossed off my list this week so far:
12) Halloween Sugar Cookies, Earth Balance Natural
Did pumpkin finally sell out? Maybe. But do I still have pumpkin fever? Yes.
13) Baked Penne with Pumpkin Cream Sauce, Julie Hasson's Vegan Casseroles via Bake and Destroy (Julie joins us for a 2nd VVC in May, phew)
Hello, thematically-inclined bubble tea:
That calls for some sake in there, if you know what I mean (which to clarify, is exactly what I said about wanting sake).
14) Creepy Bubble akaTapioca Pearl Cocktails, Instructable via Dabbled.org
Real food below! Not candy! Keep going!
15) Halloween Wild Rice, Bitter Sweet blog (3 timer!)
Yeah, pumpkin, we heart ya still.
16) Spicy Pumpkin Soup (video episodle!), The Sexy Vegan (2015 VVC Speaker!)
One more from Jackie, 'cause, breakfast:
17) Pumpkin Pie Smoothie, Vegan Yack Attack (2013 attendee & 2015 speaker!)
And for a post-breakfast treat this week, you know what fits the bill:
Hi Bianca! Hi ice cream!
18) So Delicious Halloween Ice Cream Bars on Vegan Crunk (soon to be 3-time VVC speaker!!) 
Store locator here.
Oh, yes:
What do you have in store? Have a creepy, crawly vegan-tastic blog post or idea to share? Let us know, and we just may include it over on our Instagram!
Got your homemade nooch monster costume ready? Pics or it didn't happen.
Here's the deal: We put out the call. We read the submissions. We talked. We made spreadsheets. We talked some more. We drank cup after cup of coffee and barely had time to discuss our favorite nondairy creamers of the moment. You simply cannot imagine how hard it was for us to narrow down our speaker lineup. Such amazing talent. Such fantastic voices. So much feedback to consider. Seriously, why can't Vida Vegan Con be a week long?!
But we've done it, and now we can't wait to share it with you! Each week we're featuring a handful of speakers, with a teaser of what sort of expertise they'll be sharing with you (& that's on top of the snazzy class topics sneak peek we shared earlier this summer).
As in past years, we've curated this lineup of activists, authors, experts and other leaders in their fields to share with you their skills, their unique voices, and their ability to inspire. We'll debut the official conference agenda in early 2015.
So here they are, in randomly random order, your third set of Vida Vegan Con III speakers:
Whitney Lauritsen, of Eco-Vegan Gal. 
Whitney is the founder and voice behind Eco-Vegan Gal, the long running video series and online empowerment resource, and a past attendee, to boot! As a fantastically well-informed vegan media enthusiast, she joins us at VVC2015 to discuss making "Kick-Ass Vegan Videos" in the land of YouTube. She'll talk about to easily create entertaining content, engaging your audience, making the most of your YouTube channel and the ins-and-outs of monetizing your videos.
M
ichelle Lee, of Broadview Design.
Michelle Lee is a creative professional based out of Vancouver, B.C. with a fondness for cats and vegan food (check, check!). She's a two-time VVC attendee who's joining our lineup for the first time to share her super relevant thoughts & guidance on the importance of branding. We're talking brand development, establishment, DIY methods, voice, logo, identity and just how and when to hire a professional, and what to expect And if you run in the right vegan circles, you just may recognize her as @food.n.catz over on Instagram & Twitter (and a lot of delicious vegan food and meow-makers).
-
Joshua May, of Clue.
No stranger to VVC after lending a much-appreciated and much-needed helping hand to our registration table in 2014, Joshua May joins us at VVC2015 to get down to business on the technical side of things and discuss the costs, reach, ROI and expectations about building your very own app. It'll be a must for all the community managers and entrepeneurs out there, and more! He truly appreciates dolphins and just may have coined the term "scrofu" (aka scrambled tofu). You can catch up with him over on Twitter, @notjosh.
Hannah Kaminsky, of Bitter Sweet.
Hannah Kaminsky is many things: multi-cookbook author, award-winning blog writer, baker, photographer, recipe developer and food stylist, to name a quick few. She's certaimly a much-loved member of the Vida Vegan Con family and returns for two very special workshops on food styling and on-location photography. Stay tuned for signup!
–
–
With that, the epic countdown to Vida Vegan Con 2015 continues! You can check out the rest of the revealed only-at-Vida Vegan Con lineup right here and here.
Ready to register!?!!? Yeah! Put in for your vacation time, get ready to explore Austin's fantastic vegan happenings, and grab your spot today!
 Vida Vegan Con III ∗ May 29-31, 2015 ∗ Austin, TX